Leading the way
Exclusive chat with Nel CEO and Renewable Hydrogen Coalition Vice-chair, Håkon Volldal
The Renewable Hydrogen Coalition (RHC) recently sat down with his newly elected Vice-Chair Håkon Volldal, President and CEO at Nel Hydrogen to discuss burning topics: Is Europe on track to meet its ambitious targets for renewable hydrogen and how to ensure that the future of electrolysers is made in Europe.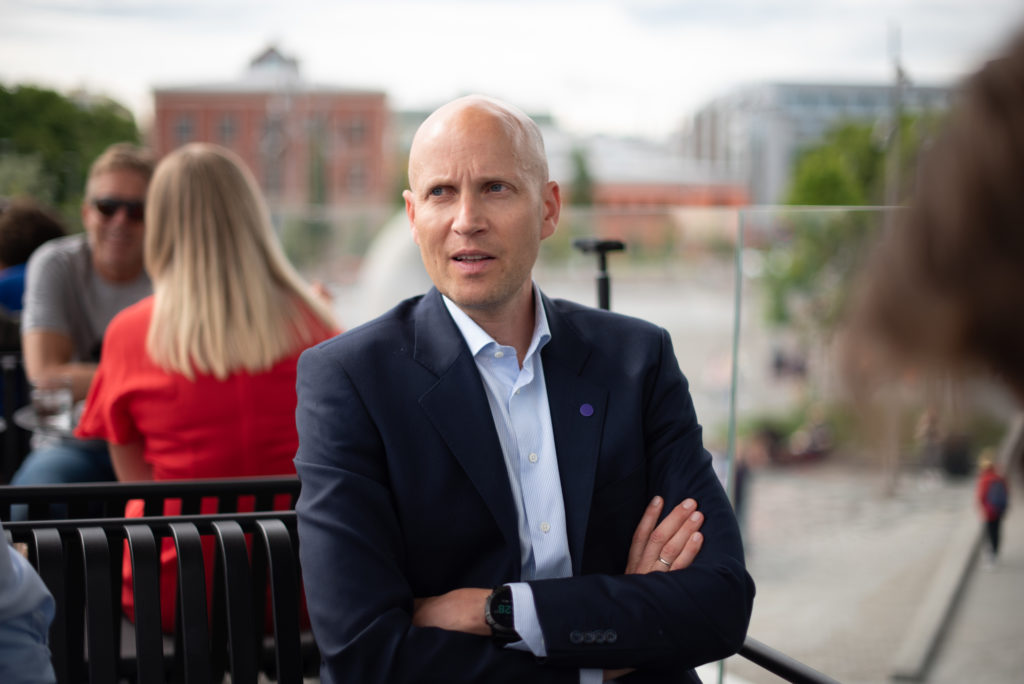 RHC: Håkon, first, thank you for taking the time to address some of the most critical question that the European renewable hydrogen sector is currently facing.

Europe aims to produce 10 million tons of renewable hydrogen domestically by 2030. Yet, currently, only 4% of announced production projects are under construction. In terms of electrolyser manufacturing capacity, Europe can produce today about 3.1GW per year. The goal is to reach 25 GW per year by 2025. Are we on track to meet the EU's ambitions, and what bottlenecks concern you the most?

Håkon Volldal: Getting more projects to Final Investment Decisions (FID) will create demand for more manufacturing capacity and spur financial conditions for manufacturers to make the necessary investments. We need to get projects across the finish-line. We need to cut red tape, speed up processes and make it easier for renewable hydrogen producers to get access to funding.

At present, the industry is not moving as fast as we would like but there are reasons for optimism when you see some of the projects that have been built successfully in the past years. We appreciate the EU is setting ambitious demand targets, but the targets must be followed up with measures and incentives that make it easy for project developers to make an investment decision. Then, electrolyser manufacturers can start scaling up their production. 

RHC: To de-risk investments and bridge the cost gap, the European Commission has proposed the European Hydrogen Bank and the STEP Platform under the Net-Zero Industry Act. Do you believe these proposals are sufficient to ensure Europe's industry remains competitive, particularly considering President Biden's US IRA? What lessons can Europe draw from the United States?

Håkon Volldal: Comparing financial incentives on both sides of the Atlantic is like comparing apples and oranges. The tax credits offered by IRA bring simplicity and transparency and the US system allows cumulation of funding received from the State and Federal level. So, there is a huge carrot on offer while in the EU the carrot's been sliced & diced into many different pieces.

The EU is taking steps and we eagerly await the results of the first pilot auction of the Hydrogen Bank. It's an important market test, not a market maker. Moving forward, we will have to take the learnings from the auction, increase the financial firepower of the Hydrogen Bank and make the necessary tweaks. For example, these auctions cannot be based on price criteria alone, otherwise this becomes a race to the bottom.

Nel's decision to build a new gigafactory in the US is not solely motivated by ease of access to capital. When we chose Michigan as our preferred location, we took into the account the presence of a highly skilled labour force, the proximity to high quality research labs and universities as well the presence of our strategic partners at GM, who have their HQ there. Having this proximity to workers & centres of excellence is extremely important as we ramp up and as projects get bigger and bigger. It's important for feeding the learning loop, giving back to the local economy and creating new opportunities & prosperity. The positive spill-over effect of these projects and non-price criteria need to be taken into account in future European auctions, especially when considering the broader geopolitical context and race for technology leadership in clean tech.

RHC: Regarding Europe's quest for technology leadership in electrolyser mass-manufacturing, how can the continent maintain industrial competitiveness and leadership? How do you view the role of the Net Zero Industry Act, especially the proposed 40% manufacturing target for all strategic clean technologies?

Håkon Volldal: It's good to set targets and raise the bar, even if these targets are aspirational and non-technology specific. It's better if we focus on more tangible deliverables. For example, integrating non-price criteria into future EU auction schemes for renewable hydrogen could be done via Environmental, Social & Governance (ESG) criteria e.g., creating European jobs along the value chain, or a point system, whereby projects using electrolyser equipment 'Made in Europe' are awarded extra points.

We all see the challenges that the clean energy sector is facing with permitting & NIMBY-ism*. This is a concrete way of tackling this issue, by making sure that future projects give back to the communities and that EU taxpayers money contribute to real EU projects.

The scale up of the renewable hydrogen industry is still in its infancy. To kick-start it and maintain European leadership, we need to look at the forest (value chain) not just the tree (manufacturing capacity). We all have to work together to build a renewable hydrogen value chain that's Made in Europe.

[End of Q&A]

*NIMBY-ism: NIMBY is an acronym for the phrase "Not In My Back Yard" and describes the opposition by residents to proposed developments in their local area.