Heroes in the field
Going large-scale to reduce the cost of renewable hydrogen
Electrolyser manufacturer and RHC supporter Green Hydrogen Systems recently achieved a significant milestone as it shipped its first prototype X-series 6MW electrolyser module for on-site installation and testing at Greenlab in Skive, Denmark. This marks the first step in a large-scale project aimed at reducing the cost of renewable hydrogen.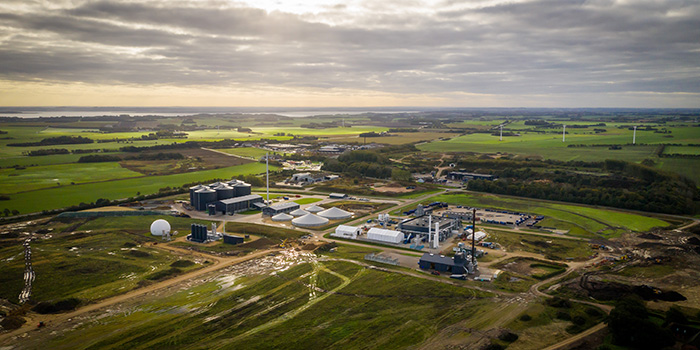 Step 1 of 100MW
Funded by the EU, the project known as "GreenHyScale" aims to develop a 100MW electrolysis plant for large-scale  renewable hydrogen production. The plant will be tested at the GreenLab industrial park, powered by 80MW of on-site wind and solar-generated renewables. The goal is to develop a replicable technology that can be spread across Europe, both onshore and offshore, in line with the EU's hydrogen and offshore renewable energy strategies.

The success of GreenHyScale will  significantly impact demonstrating the new technology and lowering the cost of renewable hydrogen, bringing it closer to cost parity with fossil fuels and enabling Europe to achieve carbon neutrality by 2050.

"This milestone is a significant achievement for Green Hydrogen Systems. The installation, testing, and validation of our innovative new electrolyser at GreenLab are crucial steps towards transforming the prototype into a commercial product," says Sebastian Koks Andreassen, CEO of Green Hydrogen Systems.
The rise of a leading manufacturer
Green Hydrogen Systems has become a leading supplier of standardised and modular electrolysers that exclusively produce renewable hydrogen from renewable electricity. The company has experienced substantial growth, expanding its team from 20 employees in 2020 to over 250 employees today. Green Hydrogen Systems is also expanding its yearly electrolyser manufacturing capacity from 75MW to 400MW. This is essential contribution to the electrolyser manufacturing capacity in Europe, that  stands between 2 and 3.3GW per year. 
Securing EU's leadership in electrolyser manufacturing
Securing Europe's position as a leader in electrolyser manufacturing is vital. Europe holds 26% of global electrolyser manufacturing capacity, while China and North America have 41% and 19% respectively. The European Commission recently introduced the Net-Zero Industry Act to boost the competitiveness and manufacturing capacities of clean strategic technologies in Europe, including electrolysers. This is key to making Europe more autonomous and resilient. Yet, to succeed, keeping the proposed scope intact will be critical to avoid diluting its impact. In addition, a dedicated focus on electrolyser manufacturing capacity in Europe is necessary as opposed to the one-size-fits-all approach suggested by the European Commission, which does not account for the diverse starting points and needs of the various covered technologies. Financial support and facilitation of private investment for GW-scale manufacturing in the EU are also critical. Unfortunately, the Net-Zero Industry Act fails to provide the desired certainty on public funding.

By spearheading the GreenHyScale project and delivering innovative electrolyser modules, Green Hydrogen Systems is driving the renewable hydrogen revolution forward. The successful implementation of this project will not only create new job opportunities but also support the rise of a new European Industrial champion in Europe: the European electrolyser industry. Most importantly, it will contribute to reducing the cost of renewable hydrogen production, making a durable impact towards achieving the goals set out in REPowerEU and propelling the European Union towards a climate-neutral future.