Heroes in the field
Breaking new grounds with world's first offshore renewable hydrogen production
About a hundred people gathered in the late-September sun to watch a new, first-of-its-kind electrolyser, paving the way for mass offshore renewable hydrogen production.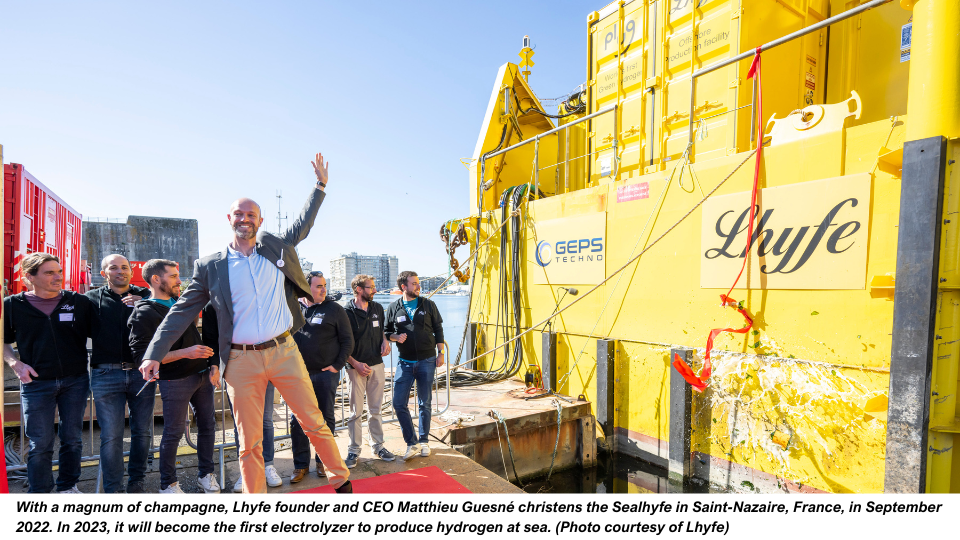 Breaking new grounds with world's first offshore renewable hydrogen production
At a heavy industrial quayside on France's Atlantic coast, about a hundred people gathered in the late-September sun to watch a magnum of champagne shatter on the steel hull of a new, first-of-its-kind electrolyser, paving the way for mass offshore renewable hydrogen production.

Christened Sealhyfe, the floating yellow electrolyser platform is the result of 18 months' work by the publicly traded French renewable hydrogen pure-play and Coalition supporter Lhyfe. Early next year, the electrolyser will be towed about 20 kilometers off the coast of Saint-Nazaire, where it will be anchored to the seabed and connected via cables to a floating offshore wind testing site operated by the French engineering graduate school Centrale Nantes.

This will be the first time that renewable hydrogen will be produced at sea. But if the European Union and its member states enact stronger policies now, the electrolyser's commissioning could do more than break a technological barrier: It could also mark the beginning of a new era of dramatically scaled-up offshore renewable hydrogen deployment across Europe – generating more economic growth, creating more jobs and increasing the energy security in every corner of the continent.

"[We] once again wanted to take up a major technological challenge, to prove – by producing hydrogen at sea for the first time – that it is possible to do it as of today," said Lhyfe founder and CEO Matthieu Guesné. "By paving the way for the mass production of renewable hydrogen at sea, Sealhyfe is fully in line with the EU's strategy to deploy an offshore hydrogen [value] chain and wishes to help build the energy sovereignty of countries."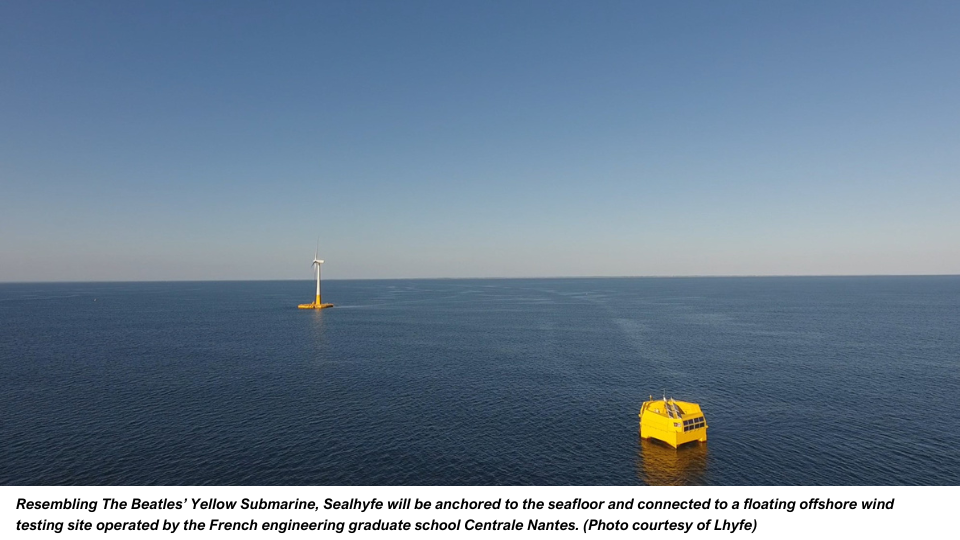 The pairing of offshore wind with renewable hydrogen is packed with potential.

According to WindEurope, the continent is already home to 28.4 GW of installed offshore wind capacity, employing 77,000 people directly and indirectly. By 2026 – thanks in part to technologies like floating offshore wind, which is helping establish new markets in places like Poland – Europe's offshore wind capacity is expected to more than double.

This not only creates thousands more jobs for shipbuilders, mariners, welders, pipefitters and electricians. It can also provide low-cost power for offshore electrolysers, lowering the cost of renewable hydrogen production. According to a 2021 International Energy Agency report, hydrogen production costs using offshore wind power generated in the North Sea could tumble below $1.50 per kilogram by 2050, making it cost-competitive with hydrogen produced from gas in the long-term.

Fallout from Russia's invasion of Ukraine has tipped the economics in favor of renewable hydrogen even more swiftly. With methane gas prices spiking up to 10 times what they were last year, the sourcing of more homegrown renewable power is now a political priority across Europe.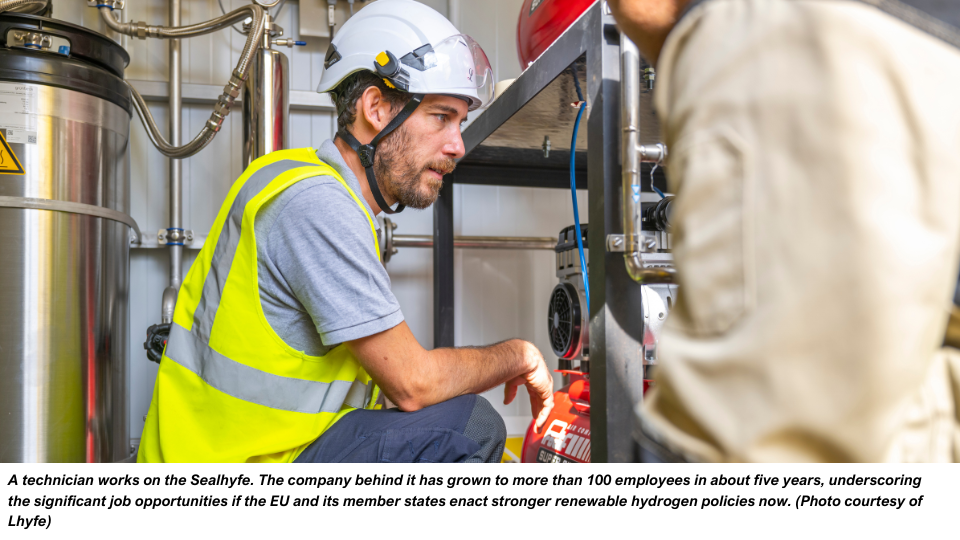 Sealhyfe will produce about 400 kilograms of renewable hydrogen a day, equivalent to about 1 megawatt of power. By 2035, Lhyfe expects that across all its operations, installed offshore renewable hydrogen capacity could reach around 3 gigawatts – 3,000 times Sealhyfe's.

Despite being founded barely five years ago, Lhyfe already employs 100 people. As soon as 2030, some 1 million jobs across the broader European hydrogen industry are expected to be created, with cumulative investments in Europe's renewable hydrogen industry approaching a half-trillion euros by the middle of this century.

Lhyfe's rapid growth encapsulates how investments in offshore wind and renewable hydrogen have the potential to reshape Europe's energy and labor markets in less than two decades. So the quayside celebration didn't just mark Lhyfe's latest milestone – it was also an urgent call to enact stronger renewable hydrogen policies now.

Watch the video featuring Lhyfe's CTO Thomas Créach below.